[et_pb_section transparent_background="off" allow_player_pause="off" inner_shadow="off" parallax="off" parallax_method="on" custom_padding="21px|0px|54px|0px" padding_mobile="off" make_fullwidth="off" use_custom_width="off" width_unit="off" custom_width_px="1080px" custom_width_percent="80%" make_equal="off" use_custom_gutter="off" fullwidth="off" specialty="off" admin_label="section" disabled="off"][et_pb_row make_fullwidth="off" use_custom_width="off" width_unit="off" custom_width_px="1080px" custom_width_percent="80%" use_custom_gutter="off" gutter_width="3″ padding_mobile="off" allow_player_pause="off" parallax="off" parallax_method="on" make_equal="off" column_padding_mobile="on" parallax_1="off" parallax_method_1="on" parallax_2="off" parallax_method_2="on" parallax_3="off" parallax_method_3="on" parallax_4="off" parallax_method_4="on" admin_label="row" disabled="off"][et_pb_column type="4_4″ disabled="off" parallax="off" parallax_method="on" column_padding_mobile="on"][et_pb_text background_layout="light" text_orientation="left" admin_label="Text" use_border_color="off" border_style="solid" disabled="off"]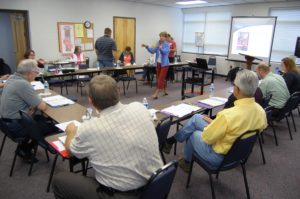 Does training that is fun and interactive, really work? If you were to take a survey before you conducted a fun training session and then a follow up survey 30 days afterward, would it demonstrate an improvement in the work processes, morale, or productivity?
Because training is costly and time-consuming, we want to know that it makes a difference.
It isn't just the cost of hiring a trainer that is of concern, but the cost of each person's salary who is attending the training, plus the lost opportunity costs because the employee isn't on the frontline selling new products and services. Many organizations understand the importance of hard skills training, such as training on a new computer system, process, or security, but when it comes to soft skills training, those same organizations may not support the program because it doesn't appear to have tangible benefits.
Here's an example of an institution that did see the value of soft skills training: This institution received feedback from employees that their training had become primarily focused on technical issues, but they needed something to help reduce the stress of the new computer system. Management decided to implement a soft skills program and they wanted data to see if it had positive effects on their employees.
They hired me to conduct a series of workshops which included a pre- and post-test with their 260 employees which consisted of:
— full-day training session with the assistant vice presidents
— full-day training session with managers
— ½-day training sessions for the remainder of the employees
These training sessions for all employees lasted over a period of 1½ weeks. Personal interviews were conducted with employees in various positions before the training to determine the current stressors and stress levels. Then we conducted a post-test survey 30 days afterwards to determine the impact of training on stress levels and productivity.
Stressors
You may have heard some of your employees talk about stressful parts of their jobs. One front line employee described how stressful it was to have a difficult customer demand services that she was not authorized to give. The customer would become angry with her for not giving them what they wanted.
Maybe you've had high turnover in your call center. Employees report tremendous amounts of stress handling problem customers over the telephone. One call center employee said fellow employees quit their jobs after only a few months.
Karen, an assistant vice president, said that her stress resulted from being a buffer between managers and vice presidents. She wanted to support her manager, but upper management told her that she must cut costs and increase productivity.
The results of the pre-test and post-test addressed many of these issues. There were five important findings:
Finding #1 Stress Levels Went Down
The number of employees who said they were stressed decreased by ½ after attending the program. Before the program 25.5% said they were stressed "almost always" or "most of the time." After the program only 12% said they were stressed.
The program increased attendees' understanding of stress and helped them learn to control the cause of the stress and then gave them ideas to manage it. That led to an increase in their feeling of being able to relax, have fun, and enjoy themselves at work. Before the program 40%, felt relaxed "almost always" or "most of the time" and after the program 80%, were able to enjoy themselves at work.
Employees who enjoy their jobs translate to customers who enjoy working with them which means higher profits. It makes good dollars and sense to manage employee stress.
Studies report having a friend at work relieves stress. The programs conducted at this financial institution resulted in helping stimulate relationships and camaraderie between employees. It helped them feel more dependable. Before the program, 36% of the respondents believed they could be depended on to help others with what they needed to get their job done. After the program almost one half felt more dependable.
Finding #2 People Felt a Gain in Energy after Taking a Break
Before the program, most reported that they took breaks, but that they didn't feel energized after the break. After the program, 53% of the respondents took a break that energized them.
Maybe you've had the experience of trying to solve a problem. You study it, looking at it from every perspective. Finally, exasperated you get up from your desk and head to the break room for a soda. As you walk down the hallway, the answer miraculously pops into your head! That's the result of allowing time for breaks and rejuvenation. Many people know the importance of taking a break, but sometimes they forget to take one.
Finding #3 Productivity Went Up
Rewarding ourselves by celebrating the completion of a project or a goal is a key factor in maintaining a high level of productivity. If we rush from one project to the next, we deprive ourselves of the celebration. We will be more productive when we have a reward. After learning about it in the program, attendees understood the importance of a reward and implemented celebrations for themselves and their customers.
One financial institution branch manager had difficulty with her tellers being helpful to difficult customers. When the tellers saw these demanding clients walk in the door, they would suddenly close their windows. That resulted in already angry clients becoming more agitated.
The manager decided to make a game of it. At the end of every week, she invited tellers to share stories about their most challenging customer. They would vote on the best story and that person would win a prize, like dinner for two at a nearby restaurant or a gift certificate for a movie. They saw an immediate increase in productivity and customer satisfaction. The tellers were excited to help these customers because they could win a prize for it!
Fun games work. After the program there was a 15% increase in the number of employees who reported that they felt more productive because they where having fun and playing productive games.
Finding #4 Work Was More Fun
In the program for the assistant vice presidents, their views on the importance of fun at work everyday was 26% greater after the program. Forty five percent said that it was important to have some fun "almost always" before the program and 71% agreed afterwards.
All employees' knowledge of appropriate ways to have fun at work was up 36% from 8% to 44%. And they actually implemented some of the fun ideas.
One idea was that the employees chose a "word of the day." For instance the word may be something related to a new loan program like "IRA" or "consolidation" or "loans." When a customer said the designated "word of the day," a person would ring a bell and the customer and employee who encouraged them to say the word would get a 100 Grand candy bar. It was fun for the customers and employees.
Finding #5 Job Satisfaction Increased
Twenty percent of the employees reported in the post-test that their job satisfaction had increased. And it even caused people to "feel" happier. When asked if they are "a happy person" 33% said "almost always" before the program and 47% agreed afterwards.
Managers saw the biggest changes, with 33% reporting increased job satisfaction.
What You Can Do to Relieve Stress in Your Organization
The above five findings led to the conclusion that training can result in increased productivity and job satisfaction, and it can relieve employee stress. It can be measured, if there is an appropriate investigation before the program and follow up after it.
Let's face it, if we want employees to give us their best to make our organization successful, we need to provide them with training that meets their needs.
There is something you can do today to increase productivity, job satisfaction and relieve stress:
1. Build in stress-relieving activities—send for your FREE copy of Ten Ways to Have Fun at Work by emailing Robin Thompson at speaker@RobinThompson.com .
2. Offer training programs—check out the programs we offer and call Robin Thompson today (541) 810-1109.
© 2018. Robin Thompson Training & Keynote, Inc.
speaker@RobinThompson.com (541) 810-1109
[/et_pb_text][/et_pb_column][/et_pb_row][/et_pb_section]
---